A fully accessible ride-sharing app is now here, thanks to Gett. Accessibility wasn't on the radar for the international black car app, but a blind 17 year old Apple and Android developer from Israel, Adi Kushnir, changed that. "He came to us and said, 'I can make your app 100 percent accessible,'" says Gett's CEO, Shahar Wasier. "We didn't know what we didn't know. I have to give all the credit to Adi."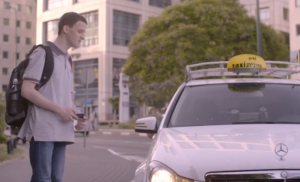 Kushnir near taxi cab.
Kushnir, blind since birth, has consulted with Apple and Android in order to improve accessibility for both companies' screen-reader apps, VoiceOver and TalkBack (respectively). Both of these were integrated into Gett, making the app fully accessible without the need for any extra devices. "Today blind people use regular smartphones on iOS and Android with touchscreens like anyone else," said Kushnir. "We don't need special dedicated devices because the accessibility is built into the standard technologies."Long Description
Kushnir using an accessible smartphone.
Since some visually-impaired persons depend fully on assisted transportation, Waiser considers this extension of the app a "crucial part" of the Gett community. Gett also accepts service animals in vehicles (something disability rights advocates have criticized competitors Lyft and Uber for not accepting). Gett, based in New York, operates in 50 cities, including London, Manchester, Moscow, Liverpool, St. Petersburg and Tel-Aviv.
Maybe in response to this accessibility update from Gett, Uber announced in July of 2015 a new in-app option called uberASSIST. Selecting this option guarantees the rider will receive a driver specially trained to assist disabled passengers in and out of their vehicles. Hopefully, there will be news of screenreader app integration and the allowing of service dogs for Uber riders in the near future!Long Description
Alicia Hills, Discovered Technologies Writer
If you know of any recent breakthroughs or innovations making life more accessible for the blind or vision impaired, let us know in the comments. It could be the next feature in Discovered Technologies!